Jodee Dixon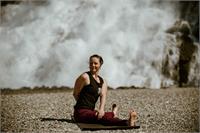 Jodee was initially drawn to yoga in 1998 for the benefits of relieving back pain. The feeling of physical well-being led to an awareness of how yoga can nurture the mind and body. This personal experience fuels Jodee's wish to share yoga with each student willing to learn.
Jodee has studied with senior teachers Matthew Sweeney and Iain Grysak. In 2013, Jodee completed 7 weeks of study with Iain Grysak in Whitehorse. Recently Jodee has begun studing with Fiona Stang. She is a registered Yoga Teacher through Yoga Alliance, receiving RYT 200 in 2008 and currently E-RYT 200, with over 3000 hours of teaching experience. Jodee is also the lead Instructor for the Teacher Training program at The Yoga Path.
Through experience with personal injuries, balancing yoga practice with life and overcoming challenges in her own yoga practice, Jodee has developed the ability and compassion to assess and teach yoga in a truly accessible method. Common encouragement from Jodee: "Rather than wanting a good practice or the right circumstances, just begin practicing yoga and the details will work themselves out as you begin to feel the benefits".
Jodee Dixon instructs the following:
Mysore style of yoga practice is a particular way of practicing yoga. The time frame has a flexible start and finish, students can choose the duration and intensity of their practice. Mysore practice is the traditional way of teaching Ashtanga Yoga as taught by Sri K. Pattabhi Jois in the southern Indian city of Mysore. The class is not "led" as a whole but rather all instruction is one-on-one within the group class setting. Students learn postures at a pace they can integrate into their body and remember for practice next day. The teacher assists each student individually as needed.
Students learn the asanas (postures) using a specific movement-breathing technique. This is vinyasa, there is continuity of the breath from asana to asana. In the Ashtanga sequence, each asana builds from the previous – and prepares for successive – asanas.
Each student is assisted to develop a routine according to their ability and needs. Newer and beginner students tend to have a much shorter practice than those with more experience. As one gains more strength, stamina, flexibility and concentration, additional asanas are given and the practice can gets longer and in many cases, more vigorous.
The structure of the class depends on the teacher being able to keep track of what every student is doing. If students attempt something out of sequence, the teacher is less able to help in the appropriate way. If a student has trouble with a particular asana, the teacher can offer a modification that is consistent with the intention of the practice. Once a student is given a new asana, they practice their sequence up to that asana, then do backbends (if appropriate) -backbending is the pinnacle, not a part of the winding down or finishing sequence. Then the closing sequence, for beginners this consists of a short seated focused breathing followed by rest.
The Ashtanga vinyasa method – as with all hatha yoga practice – is intended to be a daily practice. Traditionally, practice takes place every day except for Saturdays and full & new moon days.




Ashtanga Primary series, also known as 1st Series.

Led Primary is a class following the sequence Sri K. Pattabhi Jois began sharing with his students in 1948. Linking each breath with a movement and each posture to the next with breath and focus. See the ABOUT page with links to thorough information on this lineage.

This class is for students familiar with Sun Salutations and the standing postures. Students learning the Primary Series will stop at the posture they have not learned and do the closing sequence and rest. Students regularly practicing full primary will be led through the entire Primary series and closing sequence.

Please your instructor if you have any questions.




What is different from Yoga ore compared to other core classes? Connecting with your breathing and appropriate level of challenge. We love offering options so you can keep increasing the intensity to the next step as long as you can breathe and be steady in your body. No pain in the joints, but shaking muscles encouraged. The aim is the quality movement without compromising healthy alignment.
Wind down this practice with 5 to 10 minutes or Pranayama and/or Meditation and at least 5 minutes of rest. Ideal for those not making time for this at home or as a daily practice. Some classes will utilize specific breathing patterns or pranayama prior to or instead of meditation. If you have a favorite meditation technique or style, you are welcome to practice it during this time.
Meditation…Generally, we accept that meditation is sitting quietly with a focused and calm mind. Meditation would be the state a person is in when the mind is completely present. For most of us, this is not possible in the beginning, but the benefits of working on it are immense! In this class, you will be guided through one of many techniques to focus the mind. There are many methods to concentrate the mind towards a state of meditation, yoga or complete union. Join us for your practice today.




Journey to Handstand with yoga... and plenty of shoulder stability exercises, wrist warm-up, and core strengthening. The range of movement in the shoulder is needed to have the alignment, strength is needed to maintain the alignment and stay in a handstand. We will work with several methods to prepare the strength and mobility of the body to approach and practice arm balances. Join us! Bring two small towels please.




Moving hips and spine incorporates core work in this class. Enjoy connecting with your breath as you find steadiness and comfort in your expression of each posture.