Carrie Amott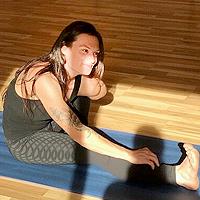 Carrie began her journey with yoga in 2004 at the age of 19 while living in New Orleans. Over the next decade and a half her practice would lead her to discover many styles of yoga over a range of many different places. In 2012 she moved to Southeast Alaska, and in 2016 she discovered Ashtanga yoga and adopted it as her personal practice. In 2017 she met Jodee Dixon and began a partnership in an effort to bring yoga to those in Juneau struggling with the mental and physical disease of addiction. In June 2018 she completed her 200 hour Yoga Alliance Teacher Training under Jodee at The Yoga Path, where she now has the honor to teach.
Carrie's fascination with yoga began because she wanted to attain both the physical and mental benefits of the practice. And over time, the breath and postures have led to refinement of her awareness of both the inner-self and the exterior-world. In many instances this has allowed her to find her way out of imbalance and back to a state of wellness.
For Carrie yoga is a portal to contentment, balance, strength, fluidity, enlightenment, and access to unspoken truth and extended vitality (to name a few). She is grateful that in this life she has the opportunity to help guide others on their own yoga path.
Carrie Amott instructs the following:
Ashtanga Yoga classes flow through a sequence to get you focusing on breath, building strength, flexibility and concentrating inward. This is much more than physical exercise, through moving our bodies we reveal areas and habits that need balancing and resolve. Many, if not most of us have restriction and limitations to what our physical body can do. All of the postures are simply practiced in a way suitable for your body, again, the breathing is the most important. Just moving with breath, the best way you can into and out of the postures without pain.

All are welcome.




Moving hips and spine incorporates core work in this class. Enjoy connecting with your breath as you find steadiness and comfort in your expression of each posture.




What is different from Yoga ore compared to other core classes? Connecting with your breathing and appropriate level of challenge. We love offering options so you can keep increasing the intensity to the next step as long as you can breathe and be steady in your body. No pain in the joints, but shaking muscles encouraged. The aim is the quality movement without compromising healthy alignment.
Wind down this practice with 5 to 10 minutes or Pranayama and/or Meditation and at least 5 minutes of rest. Ideal for those not making time for this at home or as a daily practice. Some classes will utilize specific breathing patterns or pranayama prior to or instead of meditation. If you have a favorite meditation technique or style, you are welcome to practice it during this time.
Meditation…Generally, we accept that meditation is sitting quietly with a focused and calm mind. Meditation would be the state a person is in when the mind is completely present. For most of us, this is not possible in the beginning, but the benefits of working on it are immense! In this class, you will be guided through one of many techniques to focus the mind. There are many methods to concentrate the mind towards a state of meditation, yoga or complete union. Join us for your practice today.