Jennifer McFerran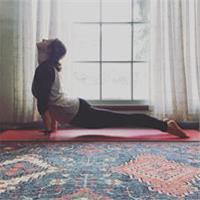 Jennifer began practicing yoga in 2008. Her practiced has evolved over the years from the physical to the internal transformation of yoga. Initially she tried all different styles of yoga to see what suited her most and in 2010 she discovered Ashtanga Yoga with Lou Gaccione in Rhode Island. She quickly fell in love with the tristana method of breath, dhristi, and asana. A couple of years later she stopped practicing due to having kids and finding it difficult to find time to practice with little ones. However, that's when she discovered she needed it most. After her second baby was born she start picking up her practice again and really focused on the internal aspects of what the practice could do for a mother of two small children. She completed her 200-Hour Yoga Teacher Training from Krysia Yoga in 2018 with a focus on the Ashtanga Lineage. She has also taken workshops and Mysore practice with Kino MacGregor, Marque Garaux, and Taylor Hunt. She continues to deepen her own practice and knowledge of yoga by studying with Jodee Dixon
Jennifer McFerran instructs the following:
What is different from Yoga ore compared to other core classes? Connecting with your breathing and appropriate level of challenge. We love offering options so you can keep increasing the intensity to the next step as long as you can breathe and be steady in your body. No pain in the joints, but shaking muscles encouraged. The aim is the quality movement without compromising healthy alignment.
Wind down this practice with 5 to 10 minutes or Pranayama and/or Meditation and at least 5 minutes of rest. Ideal for those not making time for this at home or as a daily practice. Some classes will utilize specific breathing patterns or pranayama prior to or instead of meditation. If you have a favorite meditation technique or style, you are welcome to practice it during this time.
Meditation…Generally, we accept that meditation is sitting quietly with a focused and calm mind. Meditation would be the state a person is in when the mind is completely present. For most of us, this is not possible in the beginning, but the benefits of working on it are immense! In this class, you will be guided through one of many techniques to focus the mind. There are many methods to concentrate the mind towards a state of meditation, yoga or complete union. Join us for your practice today.