Jennifer McFerran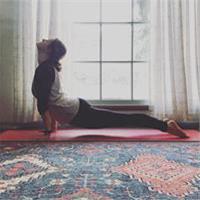 Jennifer began practicing yoga in 2008. Her practiced has evolved over the years from the physical to the internal transformation of yoga. Initially she tried all different styles of yoga to see what suited her most and in 2010 she discovered Ashtanga Yoga with Lou Gaccione in Rhode Island. She quickly fell in love with the tristana method of breath, dhristi, and asana. A couple of years later she stopped practicing due to having kids and finding it difficult to find time to practice with little ones. However, that's when she discovered she needed it most. After her second baby was born she start picking up her practice again and really focused on the internal aspects of what the practice could do for a mother of two small children. She completed her 200-Hour Yoga Teacher Training from Krysia Yoga in 2018 with a focus on the Ashtanga Lineage. She has also taken workshops and Mysore practice with Kino MacGregor, Marque Garaux, and Taylor Hunt. She continues to deepen her own practice and knowledge of yoga by studying with Jodee Dixon
Jennifer McFerran instructs the following:
Come check out the studio, hear a brief description of the variety of yoga methods a student can practice, the style of yoga taught at The Yoga Path and basic terms. Learn the foundation of a few basic postures and begin the process of moving with your breath to increase body awareness. The class will finish we a restorative yoga style. Drop into this class as many times as you like, pick up something new each time. All are welcome.

The label you put upon yourself that says you can't do you, is false. You only need the desire and determination to begin yoga.




Moving hips and spine incorporates core work in this class. Enjoy connecting with your breath as you find steadiness and comfort in your expression of each posture.