Mary Neary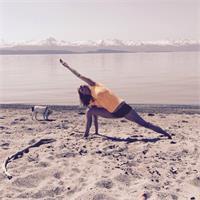 Mary was intrigued with Yoga and meditation from a young age. In 1984 she discovered Ashtanga Yoga and became committed to the practice. Since then she has mainly studied within the Ashtanga lineage.She travelled to Hawaii to practice wih Shri K Pattabhi Jois in 1985 and years later in 2015 travelled to Mysore, India to practice with his grandson Sharath Jois at the home and birthplace of Ashtanga Yoga.
During the years of raising a family Mary found it extremely challenging to continue her Yoga practice as in earlier stages and for several years Yoga became more of an occasional class or workshop rather than a regular dedicated practice. In 2005 she rededicated herself to her Yoga practice. She began to study with Stephanie Quigley in 2006 and more recently with Jodee Dixon from whom she received her 200 hour teaching certificate in 2015. She continues to seek to deepen her practice through study with both local and distant teachers and has had workshops and study with Tim Miller, Nancy Gilgoff, Manju Jois, Dylan Bernstein, Fiona Stang, Troy Lucero and Greg Tebb. For the past 3 years she has returned to India to study with certified teacher David Garrigues and seek deeper understanding of The path of Yoga. She is excited to share her love of Yoga with students and looks forward to continued learning through the process of teaching. Along her yoga path she has also been a registered nurse for many years with a certification in psychiatric nursing and has advanced studies in health and nutrition.
Mary Neary is currently not instructing any classes.